Why are we in Hong Kong? Free music? Georgian Chant?
May 1, 2014
Hi,

In just about a week on May 9th, we'll be back at the Regatta Bar in Cambridge to present out spring concert, "Subjects of Interpretation," featuring some brand new arrangements and pieces from Mr. Ho, Kyrgyzstan, and a Georgian chant arranged for 4 vibraphonists on bows that is sounding really cool! Tickets are still on sale from RegattaBar.com ($16) and the flyer is below.
Free Offer for May 9 Continues:
Congratulations to David P. , the first winner in the free offer we sent out last week. If you're planning to attend the show, don't forget to check this page for details on how to win some free music or a ticket to the show. If you missed that email, learn about the ongoing free offer here.
Orchestrotica LPs/CDs now Distributed in Asia:
We're happy to announce that our recordings are now being distributed in Asia by Shun Cheong Records, a company that specializes in audiophile-grade LPs and recordings. Inquire about the precise stores offering our music on their website.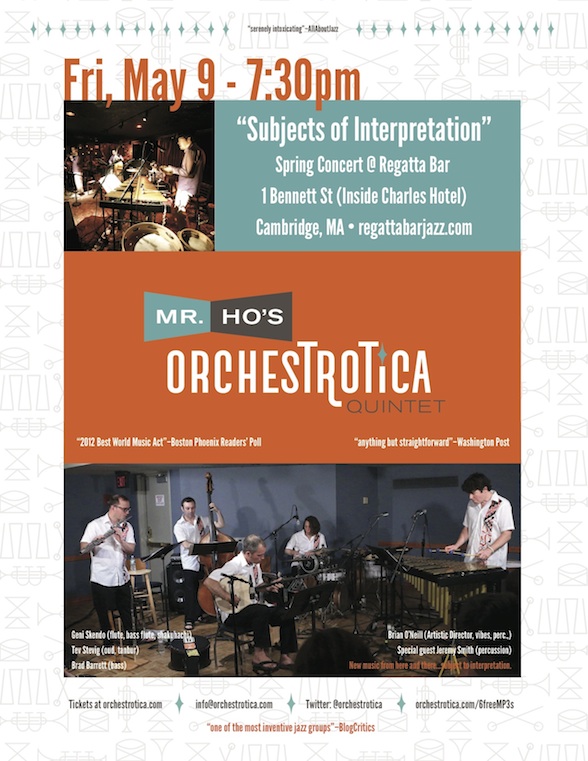 Thanks!
Mr. Ho
for Mr. Ho's Orchestrotica
Esquivel Big Band / Global Jazz Quintet
http://orchestrotica.com/