Mar 18, 2011
This event is in the past, but were you there? leave a comment or photo on Facebook, or tag @orchestrotica on Twitter, or Instagram.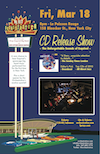 For the first time ever, the space-age pop big band music of Esquivel will be performed live in NYC! Using a 22-pc ensemble, the band will present it's acclaimed show comprised of transcriptions of the lost arrangements Esquivel made during the 1950s and 1960s on RCA Living Stereo albums such as "More of Other Words Other Sounds" and "Infinity in Sound." A short opening set by the Orchestrotica's third-stream exotica quartet will be opening the evening. The CD release show in Boston on Jan 14th sold out so buy your tickets ahead!
Tickets are $20 in advance for general admission. $40 for VIP (seated @ 4-top tables). Tickets are sold by Le Poisson Rouge.