Jul 20, 2013
This event is in the past, but were you there? leave a comment or photo on Facebook, or tag @orchestrotica on Twitter, or Instagram.
Join our Exotic Sounds of Summer Tour supporting our
PledgeMusic new-album campaign
. This is our second show at Manhattan's Somethin' Jazz Club.
Advance table reservations
recommended. On the form, use "Mr. Ho's Orchestrotica" as the name, 7/20 as the date, and check off the 9pm box.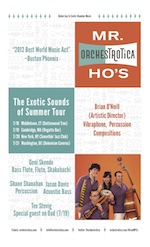 . This show will feature special guest Brandon Terzic on oud.
About the Band:
Referencing the exotica of composers ranging from Tchaikovsky and Shostakovich to George Gershwin, Martin Denny, and John Adams, Mr. Ho's Orchestrotica--as a vibraphone quartet--performs global jazz and exotic chamber music with world-music flavors sourced from Asia, the Middle East, the Balkans, and Latin America. Led by multi-percussionist, vibraphonist and composer Brian O'Neill, the group also features bass flute/woodwinds (Geni Skendo), percussion (Shane Shanahan), and acoustic bass (Jason Davis). The quartet focuses on original music written by O'Neill ("a first-rate composer"--Huffington Post) that is highly influenced by his fifteen-year career as a multi-percussionist in symphony orchestras, jazz groups, and world music ensembles leading AllAboutJazz to say, "...if John Zorn is an exotica Picasso, O'Neill is his Georges-Braque counterpart in cubism's transposition to music." The Orchestrotica was named the 2012 "Best World Music Act" in the Boston Phoenix's annual readers' poll.
In June 2011, they released their debut quartet CD, Third River Rangoon, which the Boston Herald called "...serious jazz and chamber-music writing…" and Lucid Culture called "…a lushly nocturnal collection...genius." The album continues their Exotica for Modern Living series, which opened with The Unforgettable Sounds of Esquivel , their 23-pc big band formation performing the lost space-age pop music of Esquivel. That album eventually reached #4 on the CMJ jazz charts and received 4 stars from the Sunday London Times.
Get on the mailing list to get updates on our shows and events for both groups!