Listen Free
As of 2023, the quintet in this formation has two albums out. Both are part of the Orchestrotica's Exotica for Modern Living Series available in our online store.
| | |
| --- | --- |
| Autumn Digging Dance | Your browser cannot play this file, but here is a link to the audio instead. |
| Prelude for Piano III [G. Gershwin] | Your browser cannot play this file, but here is a link to the audio instead. |
| Maracatune for Chalco | Your browser cannot play this file, but here is a link to the audio instead. |
| Third River Rangoon | Your browser cannot play this file, but here is a link to the audio instead. |
| Chiseling Music | Your browser cannot play this file, but here is a link to the audio instead. |
Ensemble Bio
In the same way a chef de cuisine runs a kitchen, percussionist Brian O'Neill leads a team of five musical creators who deftly collaborate on instruments foreign and domestic to form modernist delicacies for hungry, curious listeners. From the high arts of jazz and chamber music to adaptations of mid-century exotica and pop art, the quintet version of Mr. Ho's Orchestrotica renders O'Neill's original compositions and curious arrangements of Bach, Gershwin, Shostakovich and John Adams into cinematic, layered music for armchair travelers ready to journey off road.
While the quintet eschews most of the musical forms, rhythms, and styles of the 1950s exotica sound that inspired O'Neill, it fully embraces the unique genre's love of escapism, whether through deliberate, out-of-context use of global sounds or through jazz improvisation that doesn't swing and deliberately imitates the rhythm of a skipping record. On the listener's plate might be equal parts scratch and sniff, bongos with a fugue, and a cat fight at a piano recital. On the stage, the ensemble skillfully negotiates detailed compositions and arrangements of classical works while relying on listening and instinct to drive passionate improvisation.
"If John Zorn is an exotica Picasso, O'Neill is his Georges-Braque counterpart in cubism's transposition to music."—AllAboutJazz
"No other band on the planet sounds anything remotely like Mr. Ho's Orchestrotica."—Lucid Culture
The sound of the Orchestrotica's quintet also exists in two albums that help form the larger Exotica for Modern Livings Series, which launched in 2010 with the group's big band ensemble performing it's transcriptions of the lost music of Esquivel. In June 2011, the quintet released Third River Rangoon, it's first interpretation of exotica as a mélange of jazz, classical, and world music. This sound matured with the band's sophomore recording, Where Here Meets There (2013), a dichotomous album that introduced even more adventuresome original music on it's A-side ("Music from Here") and the group's most sophisticated adaptations to date on it's B-side ("Music from There"), the latter including it's popular arrangements of Gershwin's three "Piano Preludes." The series has also been lauded for its unique mid-century modern-inspired artwork, and audiophile-grade production quality.
In addition to O'Neill's vibraphone and hand percussion, the quintet features Geni Skendo's flutes (concert, bass, and contrabass) and shakuhachi, the highly stylized classical/jazz bassist Michael Harrist, Tev Stevig on the rare trio of oud, cümbüş, and resonator guitar, and Jeremy Smith who referees the ensemble's interactions and improvisations using a bounty of percussion from marching machines to Arabic frame drums. All of the musicians are teaching artists and the ensemble provides educational programs at the primary school, high school, and collegiate levels.
Artistic Statement
by Brian O᾿Neill
Artistic Director, Percussionist/Vibist, Composer, and Arranger
What᾿s in a name? A lot.
From "Mr. Ho" to the word "Orchestrotica", a name can kick off many questions. Maybe you᾿re wondering what the heck an "Orchestrotica" is? Wondering if it is…appropriate…or perhaps Korean? You᾿re not the first!
The quintet formation of the Orchestrotica is a vehicle to explore the music inside me, with help from my ensemble counterparts Geni Skendo (bass flute, flute, contrabass flute, shakuhachi), Tev Stevig (oud, resonator guitar, cümbüş), Jeremy Smith (percussion), and Michael Harrist (bass). These gentlemen share my appetite for an adventure that is accompanied by what sounds like—at least to our ears—a global jazz and exotic chamber music soundtrack. Today we describe this to audiences as a "a story-driven mashup of global jazz and classical adaptations."
The Orchestrotica is a collection of ideas and ensembles that I think of as an exotic orchestra. The origins of the quintet started with my earliest musical training on the piano at age four. In middle school, while a member of the world-famous Phoenix Boys Choir, I got a chance to watch an orchestral snare drummer play a drum roll for the national anthem, and I was totally hooked. How could his hands move so fast? I had to learn. By the time I graduated from college, I had exchanged the piano and singing for swinging on the ride cymbal in the Northern Arizona University big band and combos, composing and leading the drumline, playing section and solo percussion with symphony orchestras, and was constantly hungry for more. Moving to Boston in 1999 made me realize how small my little musical world actually was. I played some southern Italian folk with Geni, belly dancing and Sufi whirling dervish gigs with Tev, chamber rock with cordis, the deep, picturesque chamber jazz of pianist Bert Seager, and even musical theatre gigs, and now, I can᾿t really compartmentalize all of it. So, it all goes into my quintet᾿s writing and improvisation as a single cocktail, shaken, and served up tall for our listeners delight. The quintet᾿s original music is compositionally focused, while retaining plenty of room for passionate jazz improvisation and individual interpretation. If you can᾿t quite place the global sounds, that᾿s also the point: the borders between East and West are also blurry, as our group seeks to create something new from our collective experiences with music from around the globe. While I love to write for the quintet, I also can᾿t escape the pull of wonderful composers such as Bach, Gershwin, Shostakovich, and Tchaikovsky, who would find their music reinterpreted in ways they probably never imagined.
So, is the "Orchestrotica" appropriate? I think so, but I let the listeners decide each time we take the stage, perform, and share the stories behind the music throughout the concert.
As for the "Mr. Ho," it᾿s an acronym. You᾿ll just have to call or ask me in person for the details. Or, keep imagining the meaning for yourself. That᾿s really the spirit of the music.
Learn more about Brian O᾿Neill at crashandboom.com
Get on the mailing list to get updates on our shows and events for both groups!
Brian O'Neill: Artistic Director, Percussionist, Composer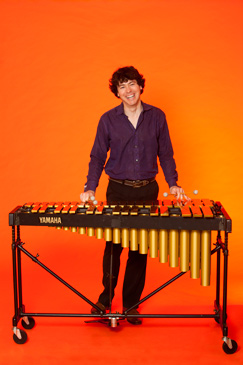 Brian O'Neill is a versatile multi-percussionist, drummer and composer based in Boston, MA. A "percussion master and musical polymath" (Boston Phoenix), Brian performs regularly in a wide variety of musical contexts including western classical orchestras, musical theatre, jazz groups, and world music ensembles. Brian is also the Artistic Director of Mr. Ho's Orchestrotica, the internationally acclaimed dual-ensemble that includes two incomparable ensembles: the world's only Esquivel Megaband performing Brian's transcriptions of Juan Garcia Esquivel's lost space-age pop music ("deliciously entertaining"—Wall Street Journal), and a global jazz and exotic chamber music quintet that interprets Brian's original compositions and radical adaptations of classical works ("engagingly unique"—Boston Globe). The Orchestrotica has released three albums in its Exotica for Modern Living series, all of which have received critical international acclaim including a "four star" review from the Sunday London Times, and two "Top 10 Albums of the Year" awards from the Huffington Post. AllAboutJazz once said, "O'Neill may be, in the long run, a better exoticist than [John] Zorn," and his music with the Orchestrotica has been featured in film and on stages in Canada, Mexico, Germany, and across the United States.
As an orchestral and chamber musician, Brian has worked with Portland Symphony, Albany Symphony, Boston Modern Orchestra Project, Arizona Opera, cordis, and as a soloist with Sun City Symphony in AZ. Brian is also a show drummer and percussionist, and has performed with Kristin Chenoweth, Donna Summer, the national tour of Motown the Musial, and as a regular drummer at North Shore Music Theatre in Beverly, MA. Additionally, Brian has a love for world music and is a regular performer with Ishna (Celtic/Irish, bodhran, drumset), Klezwoods (klezmer/Balkan, riq, doumbek, cajon, drum set), and Jeni Jol (Balkan/Turkish, frame drums). His musical adventures have brought him to national and international stages including The Montreal Jazz Festival (main stage), The Kennedy Center, and Carnegie Hall among others.
Brian graduated summa cum laude with a Bachelor of Music degree in Percussion Performance from Northern Arizona University, studying with Dr. Steven Hemphill. He also speaks Spanish and Portuguese and studied Brazilian music and percussion in Salvador da Bahia. Keep up with Brian and learn about his fascination with global tambourine playing techniques at crashandboom.com or on Twitter and Instagram.
Orange photo by Robin Holland.
Geni Skendo: Bass Flute, Flute, Shakuhachi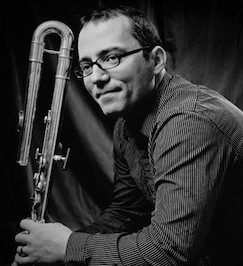 The Boston Globe calls flute and shakuhachi specialist Geni Skendo a "virtuoso," creating a unique blend of jazz, free jazz and world music. After a successful performing career in his native Albania, Geni moved to the US in 2003 to raise his jazz playing to a higher level. Studies at the Berklee College of Music and The New England Conservatory (MM) led to a deep, ongoing involvement with the Boston music scene. Geni performs with Mr. Ho's Orchestrotica (Best World Music Act, Boston Phoenix Readers' Poll, 2012), in both its quartet and big-band incarnations. The quartet utilizes Geni's full palette, while The Esquivel Megaband relies heavily on Geni's powerful bass flute in its recreation of long-lost arrangements by the legendary Mexican arranger Juan Garcia Esquivel. Geni also leads the free improvised chamber music group, Samurai Jazz Trio, consisting of shakuhachi, bass/shamisen and piano. Geni has released three CDs, most recently Acoustic Cowboy, featuring original compositions and new arrangements of songs from Olivier Messiaen, African pygmies and the Balkans.
More at GeniMusic.com
Michael Harrist: Bass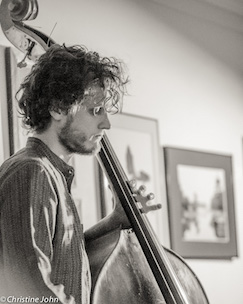 Michael K. Harrist is a musician and educator based in Watertown, MA. Michael performs and works with artists in a wide array of world traditions including Turkish art music, Hindustani music, Jazz, Western art music and American roots music. He has performed throughout North America, Europe and Turkey with various ensembles including Ameranouche, Cesni Trio, Ross Daly and Kelly Thomas, Sol & Kiel, Capillary Action and the Labyrinth Modal Music Orchestra. Michael teaches workshops and private lessons in world music traditions (primarily Turkish makam and Hindustani raga), monophonic and polyphonic composition and instrumental practice and performance. His workshops for children focus on pitch and rhythm acquisition through games and play.
Michael studied double bass with James Macdonald at the Open Music Collective in Brattleboro, VT. He received his BA in music and religion from Marlboro College under the tutelage of composer Stan Charkey and religion scholar Amer Latif. Michael continues his studies with composer W. A. Mathieu, sarangiya Pandit Ramesh Mishra, sarodiya George Ruckert, neyzen Fred Stubbs, and contemporary modal musicians Ross Daly and Evgenios Voulgaris.
More at michaelharrist.com
Tev Stevig: oud, tanbur, resonator guitar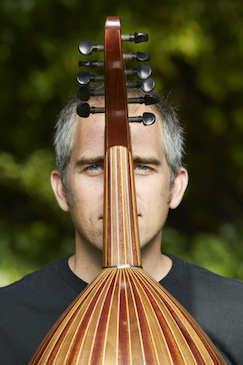 Tev Stevig is a Boston-based guitarist and multi-instrumentalist, specializing in a variety of pluckedstring instruments from the Balkans, Greece, and Turkey. He joined the Orchestrotica's quintet in 2013 and had been playing guitar and steel guitar with the group's 22-pc Esquivel big band since 2011. Tev also performs with his solo/duo project called Jeni Jol, which incorporates elements of music from the Balkans, Greece, and Turkey in his original compositions and arrangements for clawhammer style fretless guitar. Jeni Jol's first CD was released in the fall of 2013 and is the first of an exciting new series of CD releases featuring solo clawhammer style guitar. Tev also plays electric guitar and oud with the klezmer/Balkan/jazz/rock band Klezwoods. He plays tanbur with the Ottoman art music group Orkestra Marhaba and acoustic guitar and oud for the Balkan/new-grass group, Hickory Strings. His musical travels have brought him to the main stage at the Montreal Jazz Festival, the John F. Kennedy Center in Washington DC, the Apollonia Festival of Arts in Bulgaria, as well as many other music venues in North America and Europe. He has performed with such seminal Balkan folk artists as Yuri Yunakov, Goran Alachki, Gieorgi Yanev, Adam Good, Beth Cohen, and Walt Mahovlich. He has also performed with Ramon de los Reyes Spanish Dance Theater, Julia Madeson and Aljashu (Sephardic music), Zamir Chorale, and the Turkish art music ensemble, Dunya.
More at tevstevig.com
Jeremy Smith: Percussion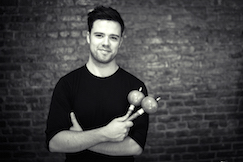 Jeremy Smith is a percussive artist whose unique versatility allows him to move seamlessly among numerous musical styles from around the world. While the foundation of his playing comes from his classical training at Juilliard, his passion lies in improvisational percussion traditions such as those found in South America, Africa, India, the Middle East, and jazz.
He has performed with ensembles and artists such as Alí Bello and the Sweet Wire Band, Ensamble a Contratiempo, Gerardo Contino y Los Habaneros, Gian-Carla Tisera, Los Crema Paraiso, and Latin Grammy nominee Luisito Quintero. He is also a member of the innovative Middle Eastern music group Brooklyn Nomads led by oudist Hadi Eldebek.
As a composer, Jeremy has written two works for percussion trio. "In Unison" was written for and premiered by students at the 2013 Juilliard Summer Percussion Seminar. In 2012, he premiered "5-7-9" at Juilliard's electro-acoustic concert series Beyond the Machine 13.0. This work has also been performed at the Manhattan School of Music and had its Asia premiere in July 2014 at the International Percussion Festival in Seoul, Korea. Jeremy is an active freelance artist based in New York City where he is also an accompanist for modern dance classes at Peridance Capezio Center, Steps on Broadway, Paul Taylor School, Ballet Tech School, and Harkness Dance Center. He received his Bachelor of Music degree from The Juilliard School as a student of Gordon Gottlieb and Markus Rhoten.
More at jeremysmithpercussion.com
Previous/Guest Performers
Oud: Brandon Terzic, Nima Janmohammadi, Thomas Chess, Dafer Tawil
Percussion: Shane Shanahan, Noriko Terada, Jon Singer
Bass: Brad Barrett, Jason Davis, George Rush, Carlo de Rosa