Jun 18, 2011
This event is in the past, but were you there? leave a comment or photo on Facebook, or tag @orchestrotica on Twitter, or Instagram.
"...a perfect cocktail of mid-century "space age bachelor pad'' music deliciously accented with chamber, jazz, classical, and world music..." -Boston Globe

"…O'Neill may be, in the long run, a stronger exoticist than [John] Zorn."-AllAboutJazz

"...brilliant...a must-have for any exotica fan..." –Tiki Magazine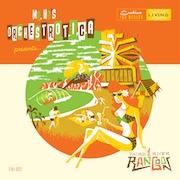 The Exotica for Modern Living series continues with Mr. Ho's Orchestrotica presenting it's first quartet-sized album, Third River Rangoon. An original and modern exploration of chamber, jazz, classical, and world sounds inspired by the escapism of the 1950s exotica genre, led by composer, vibraphonist, and multi-percussionist Brian "Mr. Ho" O'Neill.
Featuring Albanian flute and bass flute specialist Geni Skendo, Japanese percussionist Noriko Terada (Flangia, Women of the World), bassist Jason Davis (Earthsound, Choro Democratico), and special guest Tev Stevig (Klezwoods, Kafana) on oud.
NYC CD Release Party for our new album, Third River Rangoon, our quartet's first recording of their own blend of mostly-original, third-stream exotica. Between sets, stay entertained with NYC exotica DJs Jack Fetterman and Gina of the Jungle.
Doors open with DJ music at 830pm; live music starts at 9pm. Tickets: $15/adv, $20/door. CDs: Just $5 day of the show.
TICKETS: no longer available for sale online but there are spots available at the door. Adv. ticket holders must arrive by 9pm or your seat will not be guaranteed.

RSVP on the Facebook event page