Jul 30, 2015
Cambridge, MA
Were you there? leave us a comment or upload photos via email to our Flickr album.
The Exotic Sounds of Summer Concert!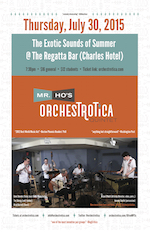 The Orchestrotica's quintet formation, called "anything but straightforward" by the
Washington Post, returns to the Regatta Bar on Thursday, July 30th for a concert at 7:30pm. $16. Special student pricing of $12 also available.
Led by "musical polymath" Mr. Ho aka Brian O'Neill (percussionist, artistic director), the quintet features the talents of Geni Skendo (bass flute, flute, shakuhachi), Tev Stevig (oud, tanbur, resonator guitar), Brad Barrett (bass), and Jeremy Smith (percussion) and the group will perform unrecorded music, and selections from it's acclaimed Exotic for Modern Living series,
Third River Rangoon (2011) ("Top 10 for 2011"-
Huffington Post) and
Where Here Meets There (2013) ("Wonderful!"-
Jazz Weekly).  Among other surprises and curiosities the band is known for, Mr. Ho will also debut a composed work for the arabic tambourine called
riq. 
"We're excited to be back at the Regatta Bar again; they're always open to us doing our thing our way, and bringing new listeners and existing fans along for the ride," says O'Neill. "People always ask me what style of music the Orchestrotica plays and how we define it. I tell them that we're here to 'find an escape' within the precision of composed music, the improvisation in jazz, and the many timbres afforded by various familiar and ethnic instruments."  The group is known for presenting accessible instrumental concerts and keeping the connection between the audience and musicians fun and friendly. 
About the Quintet
Referencing the exotica of composers ranging from Tchaikovsky and Shostakovich to George Gershwin, Martin Denny, and John Adams, Mr. Ho's Orchestrotica—as a vibraphone quintet—performs global jazz and exotic chamber music with world-music flavors sourced from Asia, the Middle East, the Balkans, and Latin America. Led by multi-percussionist, vibraphonist and composer Brian O'Neill, the group also features bass flute/woodwinds (Geni Skendo), percussion (Jeremy Smith), acoustic bass (Brad Barrett), and oud/tanbur/resonator guitar (Tev Stevig). The quintet focuses on original music written by O'Neill ("a first-rate composer"—Huffington Post) that is highly influenced by his fifteen-year career as a multi-percussionist in symphony orchestras, jazz groups, and world music ensembles leading AllAboutJazz to say, "…if John Zorn is an exotica Picasso, O'Neill is his Georges-Braque counterpart in cubism's transposition to music." The Orchestrotica was named the 2012 "Best World Music Act" in the Boston Phoenix's annual readers' poll. Full bio