Sep 20, 2022
This event is in the past, but were you there? leave a comment or photo on Facebook, or tag @orchestrotica on Twitter, or Instagram.
Excited to be back at the Lily Pad after a few years off (thanks Covid!) Come hear the quintet back at our home base in Cambridge, MA. This show is almost sold out. Due to this and the small size of the venue, masking is highly recommended (and appreciated by us.) A few tickets will be available at the door (doors open 7:30). Online sales will end today, 9/20 around 2pm.
Update: This concert will be dedicated to the memory of our dear friend Brother Cleve, who passed away on 9/9/22. Brother Cleve helped produce our first recording, and was a close resource to Brian when he began the Esquivel Megaband project and transcription work. We will miss him dearly.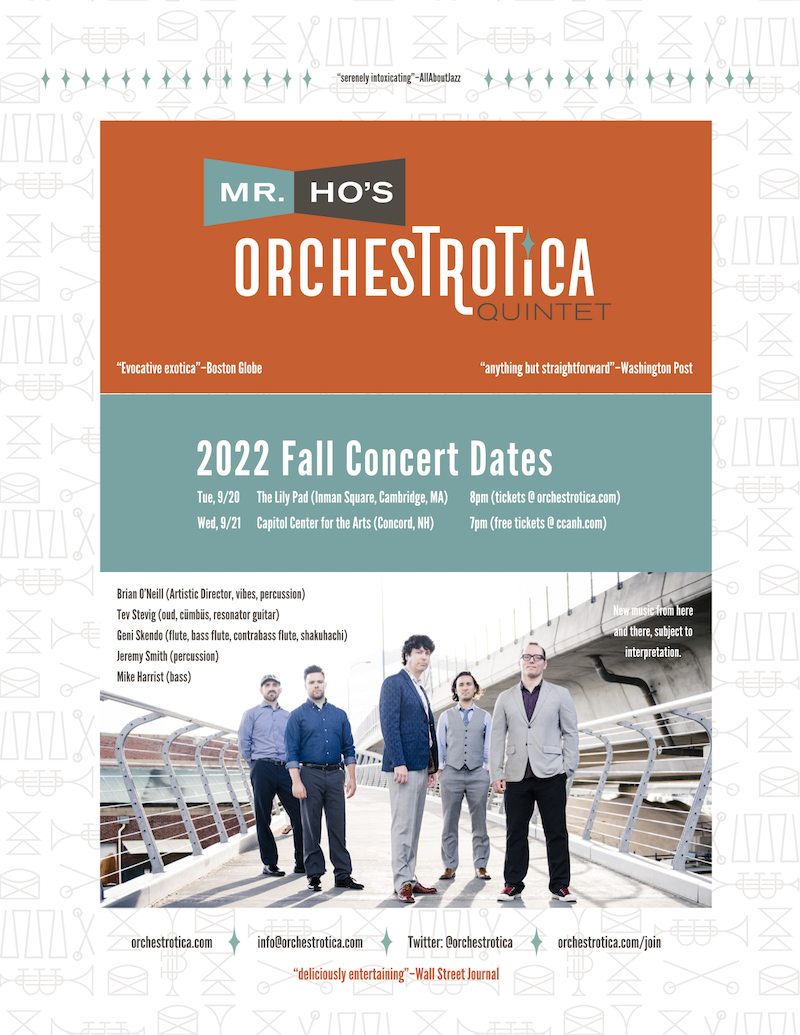 About the Quintet:
In the same way a chef de cuisine runs a kitchen, percussionist Brian O'Neill leads a team of five musical creators who deftly collaborate on instruments foreign and domestic to form modernist delicacies for hungry, curious listeners. From the high arts of jazz and chamber music to adaptations of mid-century exotica and pop art, the quintet version of Mr. Ho's Orchestrotica renders O'Neill's original compositions and curious arrangements of Bach, Gershwin, Shostakovich and John Adams into cinematic, layered music for armchair travelers ready to journey off road. More...
Get on the mailing list to get free music, tour news, and more.
*All ticket sales are final. No exchanges or refunds unless the show is cancelled by the artist. Arrive prior to the concert start time as all seats become available to standing patrons once the show begins.