The Remotely Music Series (from Mr. Ho's Orchestrotica)
Coronavirus won't stop Mr. Ho's Orchestrotica!
We are excited to be launching the Remotely Music Series of online webcast events, and we invite you to be part of these hangs we call "sessions" as we explore what it means to be performing artists and musicians when we are all so remote. Together, we're excited to explore this new constraint through live performance, interviews, discussions, and more. Part live video podcast, part concert, part experimentation, and part social hang, you can join us and help us define it as we go.
How to Attend RMS Sessions
2 ways to participate:
Interactive Participation (limited to 100 attendees). If you'd like a more interactive experience, with the ability to talk with us to ask questions, and have your camera on with other fans, then this is the best option for you. Fans who have subscribed to our mailing list will be given first access to these seats. This will likely provide the best audio and video quality as well. Currently, we are using the Zoom platform for this.
Watch Passively via Facebook Live - any time we are live, it will appear in your feed if you have liked our Facebook Page. If you don't want your own camera on, and don't care about being able to speak with the band, Mr. Ho, and the guests, but want to tune in at the scheduled time of a Session, just visit facebook.com/orchestrotica/live.
Pricing for Events
As we are still defining the RMS series, we are making these events free, with the option to financially support us during or after the event. During each event, we'll let you know how you can support the series, the Orchestrotica and our guests if you wish.
Ready to Join Us?
After you join:
Next Session: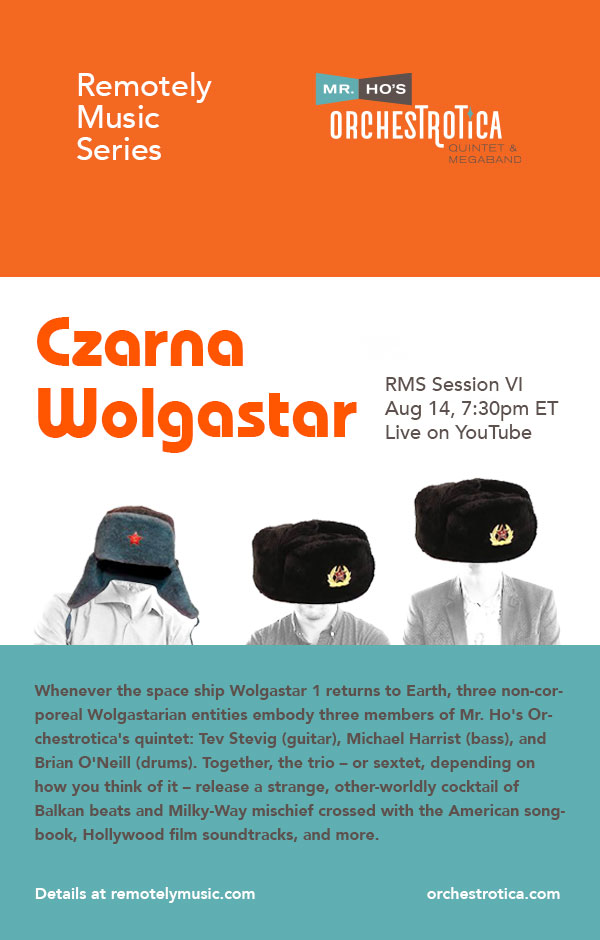 Join our Fans and Supporters
Want to add your quote?
Just email it to us.
Our family has enjoyed your music since first hearing you just before your visit to Lawrence, Kansas a few years ago. Happy to take some of my good fortune (steady work and pay despite the ongoing pandemic) and share it with you to support Mr. Ho's Orchestrotica and the Remotely Music Series. The incredibly eclectic mix of instrumentation and styles of this band, coupled with exceptional individual talent make this quintet unmatched in helping me find my happy place in these crazy times. May you keep filling our ears (and our hearts) through the ether until we can again see you on the stage! Peace and Love!

Eric Price

Leavenworth, KS, USA
Glad to contribute to Mr. Ho's Orchestrotica and the Remotely Music Series! I'm lucky enough to be working safely from home during the pandemic. The Bay Area has been sheltering in place since early March, and I want to support artists like them. These "intimate" performances and events are a welcome, enjoyable distraction, and something unique to treasure. Joshua BellBay Area, CA, USA
I saw you and your group play live in Edmonton, and I was impressed by the music. But moreover, I was really taken with your enthusiasm. It was apparent that you love what you do, and are very skilled as well. I think both things are important, but it was the joy you radiated in playing that was memorable to me. I am happy to support Mr. Ho's Orchestrotica and their Remotely Music Series.Jack BawdenEdmonton, Canada
I am disappointed that performing musicians—including artists like Mr. Ho's Orchestrotica that I have seen live—cannot do their thing right now. We need to support them now so that they will still be here for us when we can finally go out and hear their live music performances again. I like these musicians as people and as artists, and I am happy to support Brian and the rest of the quintet in their experiments with the Remotely Music Series.Fred JonasMiami, FL, USA
Being so close to Mr. Ho's Orchestrotica's home base, this is first about supporting local music. It's much more than that in this case. Preserving a piece of musical history, from groundbreaking artists like Esquivel, is something music lovers should get behind. Brian (Mr. Ho) has worked tirelessly to decode and bring his music back to life and that is why I enthusiastically support the band and Remotely Music Series.John M.West Warwick, RI, USA