Jun 19, 2020
This event is in the past, but were you there? leave a comment or photo on Facebook, or tag @orchestrotica on Twitter, or Instagram.
Session IV: A Mexican Perspective on Esquivel, the King of Space-Age Pop (Documentary Film Preview & Live Children's Book Reading).
Watch the Recordings (Partials)
Due to copyright reasons, portions of the original session IV of the Remotely Music Series are not available in these recordings. Enjoy the rest of the conversation!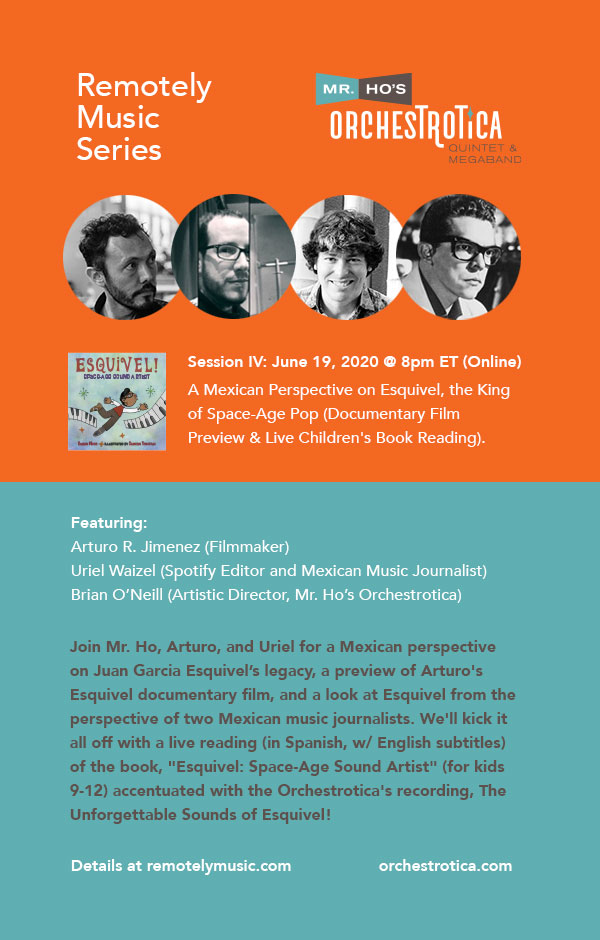 Join the conversation hosted by Mr. Ho (Artistic Director, Mr. HO's Orchestrotica) featuring Uriel Waizel (Spotify Editor & Mexican Music Journalist) and Arturo R. Jiménez (Filmmaker and Journalist) for a discussion, a preview of Arturo's Esquivel documentary film, and a look at Esquivel from the perspective of two Mexican music journalists. We'll kick it all off with a live reading (in Spanish, w/ English subtitles) of the book, "Esquivel: Space-Age Sound Artist" (for kids 9-12) accentuated with the Orchestrotica's acclaimed debut album,
The Unforgettable Sounds of Esquivel
! Mr. Ho consulted on the creation of this book, and will share some of the inside story on this text featuring the life and music of Esquivel—for kids! Special thanks to Charlesbridge Publishing for the permission to read this book. Don't miss it—the live reading at 8pm will not be recorded!
How to Watch/Attend
There are 2 ways to watch:
Watch Live and Interact With Us: Use the ticket button to register for an interactive Zoom seat (limited availability). You can have your camera turned on (optional) and ask questions directly to us using your video/audio connection.
Watch the simulcast on Facebook (watch and chat only; you will not be able to ask questions of the guests and we may not see your chat questions)
Guests
ARTURO R. JIMENEZ (Filmmaker and Journalist)
Arturo R. Jiménez is a Mexican filmmaker and journalist. He has directed, produced and photographed films in Mexico, the United States, the Czech Republic, Cuba and Nicaragua. His writing is centered on music and artistic expression, having previously written for Rolling Stone Mexico and over a dozen newspapers, websites and magazines. He has also worked extensively in the contemporary art world, having collaborated as an assistant curator at both Museo Tamayo in Mexico City and the Biennial of the Americas. For the past 10 years Arturo has worked on a project researching Juan García Esquivel's work and influence around the world. Follow his work on Vimeo.
Support Arturo Here: His current Indiegogo film project is called El Fantasma.
Uriel Waizel (Spotify Editor & Mexican Music Journalist) (@uriw)
Uriel Waizel has a long standing career as a critic, radio-personality, music supervisor, music editor, DJ and voice-over talent. With more than twenty years of professional experience, Uriel has an omnivorous musical taste ranging from Aphex Twin to The Zombies, Bollywood to Mexican Banda and Cumbia to Kraut-rock. Always exploring an ocean of sound, skillfully and lyrically constructing imagery and narratives for a better understanding of the creators' context. Juan García Esquivel has been a true inspiration driving an obsession to spread the gospel around the Mexican composer's genius legacy.
Before joining Spotify, Uriel was head of the music department at Ibero 90.9 FM –sort of a Mexico City's public radio station parallel to KEXP or KCRW– where he also presented shows like Quirky (fringe music), Clickaporte (live sessions) or Pocajú (world music). He also was in charge of the music section for Mexico City's time out magazine Chilango for more than five years (2012-2017) and produced Red Bull Radio's Panamérika: a widely syndicated Latin-Alternative radio show that lasted for 10 years and 500 shows. Currently, Uriel Waizel is Editor at Spotify, working from Mexico City and leading the MX team.
Live Book Reading w/ Orchestrotica Background Music
Esquivel: Space-Age Sound Artist
from Charlesbridge Publishing (Spanish, English)
Our guest, Uriel, will be reading this fantastic book for kids 6-9 years old (grades 1-4) in Spanish with English subtitles. Written by Susan Wood (Author), Duncan Tonatiuh (Illustrator) and available in print and audio formats. Special thanks to Charlesbridge for giving us permission to read this text live. Learn More/Buy Now
About the Remotely Music Series (RMS)
Hosted by artistic director, Brian O'Neill, and featuring members and friends of Mr. Ho's Orchestrotica, join us as we react to Coronavirus with music, interviews, discussions, and most of all—you—via our new, free series of live, interactive video webcasts. Launched in April 2020. Learn about the series, then join the mailing list to get early access to all event registration links (yes, seats in the official "Zoom group" are limited, despite this being an online event!). That said, we will also be co-broadcasting the video feed to our Facebook Page as well. Just bookmark this link and tune in at the scheduled time: facebook.com/orchestrotica/live