Are you looking to present innovative music...but also need it to be accessible?
Are you concerned that jazz and chamber artists can sometimes be "too heady" for your audience?
Do you value teaching artists who offer engaging educational programs?
Do you need marketing and publicity support—and like it when artists have a fan base?
If so, here are (4) reasons the Quintet
could be great for your audience:
Story-Driven Audience Connection
Every concert includes "narration" throughout, in which the ensembles takes the audience behind the compositions and arrangements so they can more deeply appreciate what they're listening to. This is the #1 thing audiences repeatedly say they like about performances; there is no wall between the audience and ensemble.
New, Accessible Sounds (Enjoyed by 19,000+ Spotify Fans Monthly)
If you're looking for "traditional," this is not the group for your series. This is for presenters looking to present something new, which is why the group appears on traditional chamber, contemporary/new music, jazz, and world music series. Currently, Mr. Ho's Orchestrotica is enjoyed by over 19,000 people every month just on Spotify, and is featured on 4 official playlists.
World-Class Music and Reliable
All musicians are professionally trained and have performed with ensembles ranging from the LA Philharmonic and Boston Symphony Orchestra to Donna Summer, and national Broadway tours. The quintet's members have appeared at venues such as Carnegie Hall and The Kennedy Center and several have been trained at prestigious music schools including New England Conservatory, Berklee, and Julliard. In addition to the group's seasoned musical skills, you won't have to wait for emails or phone calls to be returned promptly either. The group is efficiently managed and has promoted and organized its own tours in the USA, Europe, Canada, and Mexico.
It's Risk Free to Your Organization
On most concerts, the group offers a 100% money-back guarantee on its performances: if we don't deliver an outstanding experience (from backstage to the concert), we'll return our entire performance fee, in full, no questions asked. Just ask about it when we talk.
Presenter Testimonials
We had a wonderful turnout with 90% of our survey respondents giving the concert the top rating. Mr. Ho's Orchestrotica is an exciting, unique group, and the audience really loved the music as well as all the background the group gave from the stage about the instruments and repertoire. The entire group was very professional from start to finish, and I appreciate how engaged Brian was in promoting the concert and providing us with press coverage, video, and social media assets we could use in our marketing. We'd definitely consider having them back in the future.Glenn Tomlinson Norton Museum of Art (West Palm Beach, FL)
It was clear many in attendance were mesmerized by the experience of excellent musicians playing multiple instruments at a masterful level. The Orchestrotica's quintet is a unique ensemble of the highest caliber with a global perspective that I think academic presenters would very much appreciate.Michael Taheney Executive Director, New Bern Civic Theatre (NC)
I thoroughly enjoyed the concert and and believe those in attendance did too. I really liked seeing the way they make the sounds, some of them new to me, that they integrated into such a lively presentation. The quintet brought a wonderful energy back to Rio Grande Theatre, and had I not recently retired from DAAC, I would certainly be open to having them back in the future!Gregory Z. SmithDoña Ana Arts Council (NM)
At first, our selection committee had concerns about both the name of the group, and while they explore the whole 'exotica' genre in a unique and modern context, we still had to have some internal discussion before booking them. By the end of the concert, our audience had given them a standing ovation, with some calling it 'a blast; they're terrific presenters with excellent musicianship.' Brian was a pleasure to work with, had ample and comprehensive marketing materials ready to go, and was thorough and responsive throughout. I would definitely recommend the group, particularly to presenters in academic settings.Sheree Owens Capitol Center for the Arts (Concord, NH)
Thank you for a wonderful performance. The music was delightful, different, mesmerizing and exquisitely entertaining; the playing was masterful! You and your band were a pleasure to work with. John ChicherioHuntington Arts Council (NY)
Those in our audience who didn't know what to expect were pleasantly surprised. My favorite characteristic of the concert was the variety of moods and colors created by the Orchestrotica's unique instrumentation, and those in the audience who knew what to expect seemed very happy as well.Derek KwanLied Center of Kansas
Upcoming Tour
Bio/About the Quintet
In the same way a chef de cuisine runs a kitchen, percussionist Brian O'Neill leads a team of five musical creators who deftly collaborate on instruments foreign and domestic to form modernist delicacies for hungry, curious listeners. From the high arts of jazz and chamber music to adaptations of mid-century exotica and pop art, the quintet version of Mr. Ho's Orchestrotica renders O'Neill's original compositions and curious arrangements of Bach, Gershwin, Shostakovich and John Adams into cinematic, layered music for armchair travelers ready to journey off road.
While the quintet eschews most of the musical forms, rhythms, and styles of the 1950s exotica sound that inspired O'Neill, it fully embraces the unique genre's love of escapism, whether through deliberate, out-of-context use of global sounds or through jazz improvisation that doesn't swing and deliberately imitates the rhythm of a skipping record. On the listener's plate might be equal parts scratch and sniff, bongos with a fugue, and a cat fight at a piano recital. On the stage, the ensemble skillfully negotiates detailed compositions and arrangements of classical works while relying on listening and instinct to drive passionate improvisation.
"If John Zorn is an exotica Picasso, O'Neill is his Georges-Braque counterpart in cubism's transposition to music."—AllAboutJazz
"No other band on the planet sounds anything remotely like Mr. Ho's Orchestrotica."—Lucid Culture
About Our Name!
Mr. Ho's Orchestrotica - what's that!
You're not alone wondering what the heck it means. Here's what it's all about. HO is an acronym for "Haole O'Neill" - my last name, preceded by a Hawaiian word that means "white guy / outsider." An old manager in an old band I played in from Hawaii used to call me "Mr. Ho" and while we're not paying Hawaiian music at all, I kept the imaginative nickname. Orchestrotica is a portmanteau of "Orchestra" and "Exotic," a wink and nod to the escapist genre of music known as exotica that was once popular in the US. Today, our mission is to explore what exotica's concept and sound means in a modern context using new musical vocabulary and sounds. Our fans love the name, including our older listeners (we have fans in their 80s). View their quotes here
Additional Testimonials
The Orchestrotica's quintet came as something of a surprise to our outdoor crowd seated in the grass, but by the time they finished, they had won over pretty much everyone there with their fascinating and original music!Gregory Jenkins, Director Somerville Arts Council
I wasn't sure what to expect at first since the Orchestrotica has such a unique musical style, but in the end, our audience enjoyed the concert and the ensemble's way of introducing the variety of pieces they performed. We were happy to have them at SMDCAC.Eric Fliss, Managing Director South Miami Dade Cultural Arts Center
Wish I was still presenting—love this stuff.Hank KnerrExecutive Director, IUP Lively Arts (Retired)
Artistic Statement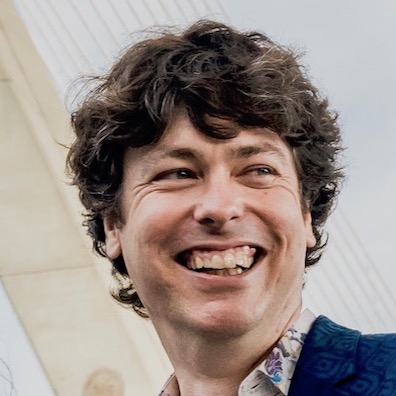 by Brian O᾿Neill
Artistic Director, Percussionist/Vibist, Composer, and Arranger
What᾿s in a name? A lot.
From "Mr. Ho" to the word "Orchestrotica", a name can kick off many questions. Maybe you᾿re wondering what the heck an "Orchestrotica" is? Wondering if it is…appropriate…or perhaps Korean? You᾿re not the first!
The quintet formation of the Orchestrotica is a vehicle to explore the music inside me, with help from my ensemble counterparts Geni Skendo (bass flute, flute, contrabass flute, shakuhachi), Tev Stevig (oud, resonator guitar, cümbüş), Jeremy Smith (percussion), and Michael Harrist (bass). These gentlemen share my appetite for an adventure that is accompanied by what sounds like—at least to our ears—a global jazz and exotic chamber music soundtrack. Today we describe this to audiences as a "a story-driven mashup of global jazz and classical adaptations."
The Orchestrotica is a collection of ideas and ensembles that I think of as an exotic orchestra. The origins of the quintet started with my earliest musical training on the piano at age four. In middle school, while a member of the world-famous Phoenix Boys Choir, I got a chance to watch an orchestral snare drummer play a drum roll for the national anthem, and I was totally hooked. How could his hands move so fast? I had to learn. By the time I graduated from college, I had exchanged the piano and singing for swinging on the ride cymbal in the Northern Arizona University big band and combos, composing and leading the drumline, playing section and solo percussion with symphony orchestras, and was constantly hungry for more. Moving to Boston in 1999 made me realize how small my little musical world actually was. I played some southern Italian folk with Geni, belly dancing and Sufi whirling dervish gigs with Tev, chamber rock with cordis, the deep, picturesque chamber jazz of pianist Bert Seager, and even musical theatre gigs, and now, I can᾿t really compartmentalize all of it. So, it all goes into my quintet᾿s writing and improvisation as a single cocktail, shaken, and served up tall for our listeners delight. The quintet᾿s original music is compositionally focused, while retaining plenty of room for passionate jazz improvisation and individual interpretation. If you can᾿t quite place the global sounds, that᾿s also the point: the borders between East and West are also blurry, as our group seeks to create something new from our collective experiences with music from around the globe. While I love to write for the quintet, I also can᾿t escape the pull of wonderful composers such as Bach, Gershwin, Shostakovich, and Tchaikovsky, who would find their music reinterpreted in ways they probably never imagined.
So, is the "Orchestrotica" appropriate? I think so, but I let the listeners decide each time we take the stage, perform, and share the stories behind the music throughout the concert.
As for the "Mr. Ho," it᾿s an acronym. You᾿ll just have to call or ask me in person for the details. Or, keep imagining the meaning for yourself. That᾿s really the spirit of the music.
Learn more about Brian O᾿Neill at crashandboom.com